About Us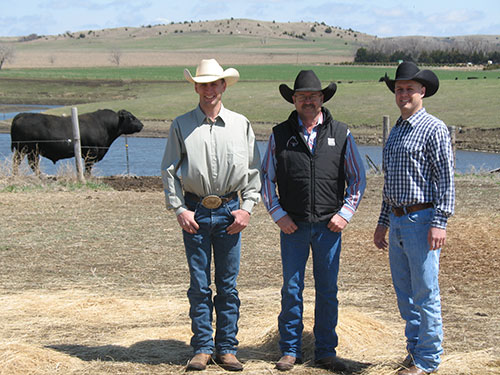 We appreciate your interest in Varilek Angus. Varilek Angus Ranch originated in 1948 by Mick Varilek's father, Elvern, with his first purchase of 10 registered Angus heifers. Elvern was one of the early pioneers of the Angus seedstock business in the Upper Midwest and currently Varilek Angus has one of the longest running successive registered Angus bull sales. On February 21, 2021 we will host our 69th Annual Angus bull sale selling 60 two year olds and 115 yearling angus bulls as well as 20 open and bred heifers. The sale will be located at the ranch seven miles south of Geddes, SD.
The ranch currently consists of 5,000 acres of native pasture, tame grasses, and alfalfa with 500 registered Angus females. With the aid of AHIR performance records, embryo transplant, carcass ultrasound data, AIMS, Maternal Plus, and extensive genetic selection the herd has become known for reputation Angus seedstock. Our entire calf crop has been genomic tested, parent qualified, and carcass ultrasounded. The American Angus Association recently recognized Varilek Angus as one of the top producers for cattle registered in the state of South Dakota.
Since the early years, our goal was to develop cattle that are functional, reproductively efficient, phenotypically correct and are capable of converting feed efficiently. Through the years, we have employed additional technology and data to further our goal of providing quality breeding stock to the beef industry and also to improve economic and carcass traits.
We hope you take the time to give us a call at (605) 337-2261 or (605) 680-1580 or stop on in to the Varilek Angus Ranch.
Thanks again for visiting our site!